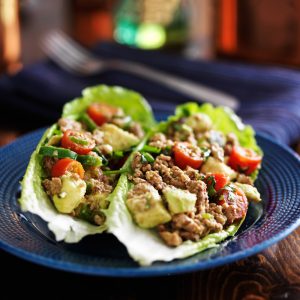 This taco recipe serves as a delicious, satisfying, and simple ketogenic meal that the whole family will love! Using lettuce leaves instead of tortillas keeps the carbs low while not sacrificing function. Diced avocado adds extra healthy fats to keep your body in ketosis so that you can continue to burn fat and lose weight.
INGREDIENTS:
1 lb grass-fed ground beef
1 small organic onion, diced
3 organic roma tomatoes, diced (avoid or limit if sensitive to nightshades)
1 organic jalapeno, de-seeded and diced (avoid or limit if sensitive to nightshades)
3 cloves organic garlic, minced
1 organic avocado, diced
1 tablespoon organic cumin powder
1 tablespoon organic paprika
1 tablespoon dried organic oregano
1/4 teaspoon organic chili powder (or to taste)
Sea salt and organic pepper to taste
1/4 cup organic cilantro, finely chopped (for garnish)
1 organic lime
1 tablespoon coconut oil
Organic lettuce leaves
INSTRUCTIONS:
Melt coconut oil in a pan on medium-high heat.
Add in onions and saute until translucent
Add in the ground beef and saute until the beef is 3/4 cooked. Pour out any excess water.
Add in the tomatoes, minced garlic, cumin powder, paprika, oregano, chili powder and salt and pepper.
Cook until the tomatoes are soft.
Add diced avocado and juice of the lime.
Serve on lettuce wraps and garnish with cilantro.
How did your tacos turn out? Let us know in the comments below!
For more ketogenic recipes as well as expert guidance on how to use a modified ketogenic diet for weight loss, sign up for Dr. Colbert's Slender System for FREE!