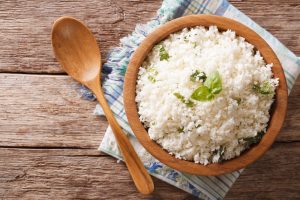 Are you looking for a ketogenic alternative to the carb-heavy starch bomb that is white rice? Then this lemon cauliflower "rice" recipe has you covered. Just as versatile and even more flavorful than actual rice, this recipe is low enough in carbohydrate to be suitable for Dr. Colbert's Slender System.
INGREDIENTS:
1 whole organic cauliflower

2 tablespoons organic olive oil or grass-fed ghee

1/2 cup fresh organic lemon juice

1/4 teaspoon sea salt

1 1/2 cups filtered or spring water

1/4 cup chopped organic basil
INSTRUCTIONS:
1. Cut the cauliflower into quarters.
2. Place in food processor and pulse until cauliflower is shredded into small, rice-sized pieces.
3. In a medium sauté pan, add your oil of choice and melt over medium-high heat. 
4. Add in the cauliflower to the pan, and sauté in oil until lightly browned.
5. Remove pan from heat and add lemon juice, salt, and water.
5. Return pan to heat and cover to steam for about 5 to 7 minutes or until the cauliflower is slightly tender.
6. Plate the shredded lemon cauliflower and garnish with basil. Serve immediately.
Are you excited to have a low-carb alternative to white rice? Let us know how yours turned out in the comment below!
For more ketogenic recipes as well as expert guidance on how to use a modified ketogenic diet for weight loss, sign up for Dr. Colbert's Slender System for FREE!
Adapted from drhyman.com