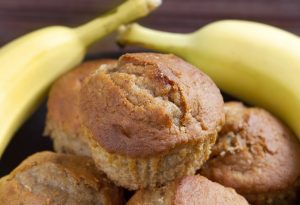 Are you looking for a delicious and filling snack that is free of gluten, grains, dairy, and refined sugar? Then these cinnamon banana detox muffins are just for you!
Loaded with fiber from bananas and a healthy dose of ceylon cinnamon to help balance blood sugar, these muffins are not only nutritious but so flavorful that you will easily forget they are good for you!
They can be eaten with coffee for breakfast, as an afternoon snack, or a healthy detox dessert! Since they are made with whole food ingredients, you can confidently feed them to whole family.
Oven Temp: 350ºF
Bake Time: About 45 minutes
INGREDIENTS:
-4 ripe organic bananas
-2 1/2 cups organic almond flour
-1/2 cup organic arrowroot starch
-1 teaspoon baking soda
-1/2 teaspoon sea salt
-1 teaspoon organic vanilla extract
-1 tablespoon ground organic ceylon cinnamon
-1 tablespoon organic apple cider vinegar
-1 teaspoon organic coconut oil (optional)
INSTRUCTIONS:
1. Preheat the oven to 350ºF.
2. Grease muffin pan with coconut oil. (or insert baking papers)
3. In a large bowl, use a fork to mash the bananas.
4. Add in the almond meal, arrowroot, baking soda, salt, vanilla, and cinnamon and stir until a relatively smooth batter is formed.
5. Stir in the vinegar and then immediately pour the batter into the muffin pan.
6. Bake at 350ºF until the top of the muffins have begun to rise and crack, feeling firm to the touch, about 45 minutes.
Let us know how your muffins turned out in the comments below!
For more delicious detox recipes and expert guidance navigating your detox experience, join Dr. Colbert's 21-Day Detox for FREE today!
Adapted from detoxinista.com