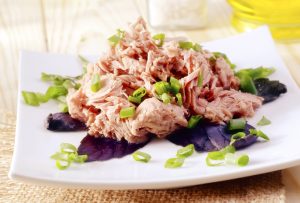 By now, we all know how healthy the Mediterranean diet is. This diet is renowned as one of the healthiest in the world. Characterized by an abundance of fresh vegetables and tons of healthy fats such as the oleic acid from olive oil and the omega-3 fats from fish, this diet is a powerhouse of nutrition. These foods are anti-inflammatory and loaded with vitamins and minerals without excess calories from sugar and starch.
The best parts of this diet are exemplified in this Mediterranean tuna salad recipe. This low-carb salad is a perfect meal for those on the Slender System modified ketogenic diet.
Ingredients:
For the dressing:
-2 1/2 tsp Organic Dijon Mustard
-Zest of 1 Organic Lime
-Juice of 2 Organic Limes
-1/3 cup Organic Olive Oil
-1/2 tsp Organic Sumac
-Pinch of Sea Salt and Organic Black Pepper
For the salad:
-3 Cans Wild Caught Tuna
-3 Organic Celery Stalks, chopped
-1 Organic Cucumber, chopped
-4-5 Organic Radishes, chopped
-3 Organic Green Onions, chopped
-1/2 Organic Red Onion, finely chopped
-1/2 Cup Organic Kalamata Olives, halved
-1 Bunch of Organic Parsley, stems removed, chopped
-1/2 Cup of Organic Mint Leaves, stems removed, chopped
Instructions:
1. To make the dressing, in a small bowl, whisk together the Dijon mustard, lime zest, and lime juice. Add the olive oil, sumac, salt and pepper, and whisk again until well-blended. Set aside briefly.
2. To make the tuna salad combine the tuna with the chopped vegetables, Kalamata olives, chopped fresh parsley and mint leaves. Mix gently.
3. Dress the tuna salad with the zesty mustard vinaigrette. Mix again to make sure the tuna salad is evenly coated with the vinaigrette. Cover and refrigerate for half an hour before serving.
4. When ready to serve, toss the salad gently to refresh.
May be kept in the refrigerator for up to one day before consumption. Are you a tuna salad fan? How did this recipe work out for you? Let us know in the comments below!