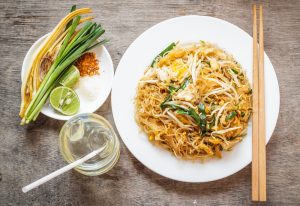 One of the most difficult aspects of adopting a ketogenic diet is forgoing staple dishes that you have come to love.
Pad thai is the quintessential American Thai dish. It's peanutty deliciousness is enough to entice even the pickiest of eaters.
Unfortunately, the noodles that usually accompany a standard pad thai are made form wheat which is loaded with carbohydrates that will zap you out of ketosis and foil your weight loss goals.
But there is no need to fret! We found an absolutely delicious pad thai recipe that uses spiralized zucchini in place of wheat noodles so that you can stay in ketosis and keep shedding the pounds!
INGREDIENTS:
⅛ teaspoon ground organic ginger
⅛ teaspoon organic garlic powder
⅛ teaspoon sea salt
⅛ teaspoon freshly ground organic black pepper
2 pounds free-range chicken tenders
2 tablespoons organic avocado oil
3 large free-range eggs, lightly beaten
⅓ cup organic chicken broth
3 tablespoons organic peanut butter
2 tablespoons organic coconut aminos
1 tablespoon organic rice vinegar
½ cup chopped organic scallion
2 organic garlic cloves, minced
4 zucchini, spiralized
½ cup bean sprouts
½ cup crushed organic peanuts, for garnish
1 lime, cut into wedges, for garnish
INSTRUCTIONS:
1. Mix the ginger, garlic powder, salt, and black pepper in a medium bowl.
2. Toss the chicken tenders in the mix until coated.
3. Heat the avocado oil over medium-high heat in a medium-sized skillet.
4. Once the oil is hot, cook the chicken until browned, about 3 minutes.
5. Remove the chicken from the skillet and cut into ¼-inch-thick slices. Set aside.
6. Add the eggs to the skillet and lightly scramble, about 1 minute.
7. Remove the scrambled eggs from the skillet and set aside.
8. Reduce the heat under the skillet to medium-low and add the chicken broth, peanut butter, coconut aminos, vinegar, scallion, garlic, and red pepper flakes.
9. Stir well and cook for 3 minutes.
10. Add the chicken slices, zucchini noodles, scrambled eggs, and sprouts to the skillet.
11. Toss to coat with the sauce, and cook for about 1 minute.
12. Serve the pad thai garnished with the peanuts and lime wedges.
For more ketogenic recipes as well as expert guidance on how to use a modified ketogenic diet for weight loss, sign up for Dr. Colbert's Slender System for FREE!