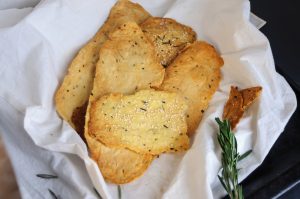 One of the challenges of a modified ketogenic diet is finding viable alternatives to traditional snack foods like chips and crackers. Luckily, we've compiled this ketogenic cracker recipe that is low on carbs but loaded with flavor. These are great for dipping in guacamole or topping with your favorite grass-fed cheese.
INGREDIENTS:
-3 cups organic almond flour
-3 large organic eggs
-3 teaspoons organic extra virgin olive oil
-¼ teaspoon sea salt
-½ teaspoon crushed dried organic rosemary
-pinch of fresh lemon zest
INSTRUCTIONS:
1. Preheat oven to 325°F.
2. In a large bowl, combine all ingredients; mix well and form dough into a ball.
3. Transfer dough to a flat surface lined with parchment paper. Place another sheet of parchment paper on top so that the dough is sandwiched in between the two pieces.
4. Use a rolling pin to create ¼ inch thickness. Remove and discard top parchment paper.
5. Cut crackers in to desired shapes.
6. Transfer bottom parchment paper and cracker shapes to a baking sheet. Bake for 12-14 minutes or until golden brown. Remove from oven; set aside to cool for at least 20 minutes.
For more ketogenic recipes as well as expert guidance on how to use a modified ketogenic diet for weight loss, sign up for Dr. Colbert's Slender System for FREE!
Adapted from drhyman.com