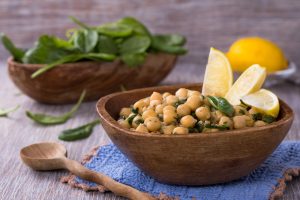 Here is a delicious vegan detox salad loaded with protein from chickpeas and bursting with flavor from a homemade avocado mayonnaise as the dressing.
Chickpeas are known to help control blood sugar and protect against heart disease while providing a ton of fiber, vitamins, and minerals.
When combined with the healthy fats from the avocado and olive oil and the dense nutrition of spinach this recipe quickly becomes a powerhouse of both nutrition and flavor!
Ingredients:
2 cans organic chickpeas
1 cup organic spinach
1 tbsp organic olive oil
Juice ½ organic lemon
Pinch sea salt
Pinch cracked organic black pepper
Handful organic cashew nuts, lightly toasted
2 organic spring onions, sliced
5 organic radishes, chopped
Handful parsley, finely chopped
4 chives, finely chopped
For the avocado mayonnaise:
1/2 organic avocado
1 tbsp organic avocado (or olive) oil
Juice ½ organic lemon
3 chives, roughly chopped
Pinch sea salt
Pinch organic black pepper
Instructions:
1. Drain the chickpeas and add to a medium sized pot.
2.  Cover chickpeas with filtered or spring water and simmer for 10 minutes.
3. Drain excess water from the chickpeas and while still warm, stir in the spinach to cook lightly.
3. Put the chickpeas in a bowl. Add the olive oil, lemon juice, salt, pepper, toasted cashew nuts, spring onions, radishes, parsley and chives. Mix well and set aside.
4. To make the avocado mayo place the avocado, oil, lemon juice, chives, salt and pepper, in a food processor and blend until it resembles the consistency of mayonnaise. Add to salad as a dressing to taste.
And that's it! Enjoy the flavors while knowing you are taking care of your body. Let us know how yours turned out in the comments below!
For more delicious detox recipes and expert guidance navigating your detox experience, join Dr. Colbert's 21-Day Detox for FREE today!
Adapted from Detox Kitchen