The most important part of a successful detox is to replace inflammatory and hard to digest foods with nourishing an easy to digest foods. When the digestive system is not bogged down by grains, meats, oxidized oils, or refined sugars, it can focus more energy on healing and detoxifying.
This super simple and delightfully delicious vegetable soup will give you all the benefits of detox without sacrificing flavor or satiety!
Yields 3-4 servings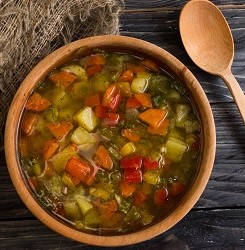 Ingredients:
2 tsp organic coconut oil or olive oil
1 organic onion, diced
3 organic cloves garlic, minced
1 cup chopped organic carrots
2 cups chopped organic broccoli florets
5 cups organic vegetable broth
3 tsp grated peeled fresh ginger
1/2 tsp ground turmeric
2 tsp ground cumin
1/8 tsp ground cinnamon
Sea salt and black pepper to taste
Fresh lemon juice
Instructions:
Heat the oil over medium heat in a large saucepan.  Add the onion and garlic and saute for about 5 minutes, until the onion is soft and translucent.

Add the carrots and broccoli. Stir to combine.  Season generously with salt and pepper and saute for 5 minutes more.

Stir in the ginger, turmeric, cumin, and cinnamon, and saute for 1 to 2 minutes, until fragrant.

Add the broth and stir to combine.  Bring the mixture to a boil and then reduce the heat to medium-low and simmer until the vegetables are tender, 10-20 minutes.

Season with salt, pepper, and lemon juice to taste.
And that's it!
How did you soup turn out? Did you add any vegetables or spices that worked really well? Let us know in the comments below!