Reach your weight loss goals with this delicious low calorie lunch or dinner recipe!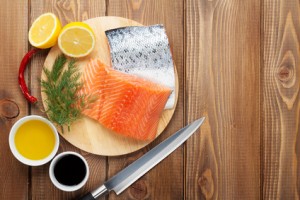 Ingredients
1 (8 ounce) Wild Alaskan Salmon fillet
1 tablespoon honey
1 tablespoon Dijon mustard
1 tablespoon freshly squeezed lemon juice
A dash of sea salt and pepper to taste
Directions
Preheat oven to broil. Combine honey, mustard, and lemon juice in a small bowl. Line a rimmed cookie sheet with foil. Spread 3/4 of mixture over salmon, covering both sides. Place salmon skin side down on cookie sheet, and drizzle with remaining mixture. Place in oven 4-5 inches from the broiler. Broil 4-5 minutes on each side or until cooked through. Serve with a side salad for a perfect meal!