In many ways, breakfast really is the most important meal of the day!
What you eat in the morning sets you up for how you are going to feel and function throughout the rest of the day.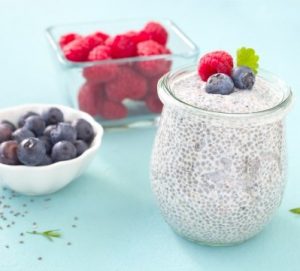 That is why it is so important to start your day off with a meal that is loaded with nutrients like fiber, probiotics, and antioxidants.
Our Living Chia Breakfast Bowl meets all these criteria and so much more!
Not only is it loaded with nutrition but it is also delicious and super simple to make. With just a few minutes of overnight prep can make your mornings so much easier!
This detox recipe is so tasty that you'll want to eat it even after you finish your 21 Day Detox!
INGREDIENTS
– 4 tablespoons Living Chia with Probiotics (found in the Detox Package)
– 1 can organic coconut milk
– 1/4 cup raw organic almonds
– 1/4 cup organic blueberries
-1/4 cup organic raspberries
– 1 teaspoon organic ceylon cinnamon
– Pinch of sea salt
Optional: blackberries, sliced strawberries, mulberries, sliced peaches, sprouted pumpkin seeds, sprouted sunflower seeds, kiwi, soaked walnut halves, soaked cashews, fresh mint, fresh rosemary
INSTRUCTIONS
Night Before:
– Pour coconut milk in to a small bowl and add 4 tablespoons of Living Chia with Probiotics
– Cover and let sit in refrigerator overnight for chia pudding
– In a separate bowl, put in the almonds and add just enough filtered water to cover
– Cover almonds and place in refrigerator overnight
In the Morning:
– Take chia pudding and almonds out of the fridge
– Drain the almonds and add to chia pudding
– Add the rest of the ingredients and enjoy!
How did your Living Chia Breakfast Bowl turn out? What awesome ingredients did you add? Let us know in the comments below!
For more delicious detox recipes and expert guidance navigating your detox experience, join Dr. Colbert's 21-Day Detox for FREE today!