A quick, easy, low carb dinner solution that will satisfy your taste buds and help shrink your waistline.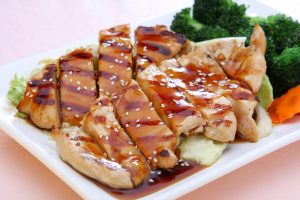 This ketogenic chicken teriyaki is made with nutritious thigh meat from organic pasture-raised chicken with the skin preferably kept on to increase both flavor and nutrition. Soy sauce is switched out with coconut aminos and sugar is avoided with the use of stevia for a hint of sweetness.
Ingredients:
4 organic pasture-raised boneless skin-on chicken thighs
7 tbsp organic coconut aminos
4 tbsp organic olive oil or organic coconut oil
1 tbsp organic apple cider vinegar
1 tbsp organic garlic powder
1 tbsp organic ginger powder
Sea salt and pepper to taste
10 drops liquid stevia, or to taste (optional)
Instructions:
Prepare the marinade by mixing the aminos, olive oil, vinegar, garlic, ginger, salt, pepper, stevia.

Dice the chicken and place in the marinade.

Let it sit in the fridge for 30 minutes – 3 hours.

Pour the chicken and marinade mixture into a frying pan on medium heat

Cook until liquid has evaporated

Serve with steamed low carb vegetables (broccoli, cauliflower, kale, etc)
How did your chicken teriyaki turn out? Let us Know in the comments below!
For more ketogenic recipes as well as expert guidance on how to use a modified ketogenic diet for weight loss, sign up for Dr. Colbert's Slender System for FREE!