Wild-caught salmon is one of the healthiest foods you can eat!
It is loaded with the healthy omega-3 fats DHA and EPA which are essential to proper brain and heart function.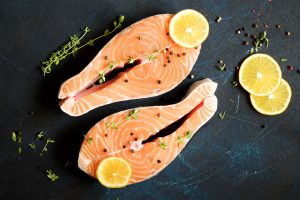 This recipe includes extra healthy fat from grass-fed butter, which adds both nutrition and flavor. Serve with organic greens such as spinach or kale for a complete low carb meal!
INGREDIENTS
1 tablespoon organic

 olive oil

3 lbs wild caught

 salmon

1 teaspoon

 sea salt

ground organic black pepper

14 tablespoons grass-fed

 butter

1

 organic lemon
INSTRUCTIONS
1. Preheat the oven to 400°F.
2. Grease a large baking dish with olive oil. Place the salmon, with the skin-side down, in the prepared baking dish. Generously season with salt and pepper.
3. Slice the lemon thinly and place on top of the salmon. Cover with half of the butter in thin slices.
4. Bake on middle rack for about 20–30 minutes, or until the salmon is opaque and flakes easily with a fork.
5. Heat the rest of the butter in a small sauce pan until it starts to bubble.
6. Remove from heat and let cool a little. Gently add some lemon juice.
7. Serve the fish with the lemon butter and a side dish of your choice.
For more ketogenic recipes as well as expert guidance on how to use a modified ketogenic diet for weight loss, sign up for Dr. Colbert's Slender System for FREE today!