Chicken nuggets. A staple for American comfort food and a ubiquitous fast food offering. Unfortunately, chicken nuggets are often made from low-quality chicken covered in refined flour and fried in oxidized vegetable and seed oils. This certainly does not amount to a recipe for long-term health, or short-term digestive comfort!
But what if there was a way to make a delicious and nourishing version of chicken nuggets that can promote health AND happiness? Well there is! By swapping out the refined flour for almond meal and baking them in the oven instead of frying, these chicken "bites"  are a healthy alternative to nuggets! They taste better than any nugget you've ever had and leave you feeling full and energized instead of bloated and groggy.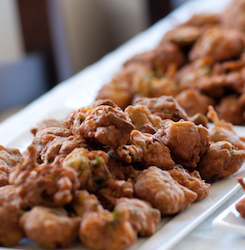 Gluten-Free Chicken Bites
Preparation: 5 min
Cook Time: 25 min
Serves: 2-4 (depending on appetite!)
Ingredients
1

lb. organic boneless chicken breasts

1

pasture-raised egg

1/4

tsp filtered or spring water

1/2

cup organic almond meal or flax meal

1

tsp Italian Seasoning

1/2

tsp garlic powder

1/4

tsp sea salt
Instructions
Preheat oven to 400°F.

Line a baking sheet with parchment paper.

In a bowl, combine dry ingredients.

In a different bowl, crack 1 egg and whisk in ¼ tsp of water.

Cut the chicken into bite size pieces.

Dredge the chicken pieces into the batter until fully covered.

Roll chicken pieces in the spice mixture and coat evenly.

Place on baking sheet and repeat until all are coated.

Bake for 12-15 minutes then flip and cook for another 10-12 minutes until golden and crispy.
Serve with your favorite dipping sauce. This recipe can be enjoyed for lunch, as an appetizer, or an afternoon snack. Great for kids and adults alike! Are you excited to have a healthy chicken nugget alternative?
Share how yours turned out in the comments below!