The beet is definitely a super food. They are loaded with antioxidants that give them their characteristic deep purple color. These compounds help fight free radicals and prevent oxidative stress. Beets are also a good source of immune-boosting vitamin C, B6, potassium, magnesium, boron, manganese, and fiber. These nutrients support detoxification of the liver and kidneys and help the flow of lymphatic fluid.
Not only are they nutritious, but when roasted and topped with strawberry vinaigrette, they also taste absolutely DELICIOUS!
So here is a quick and easy recipe that incorporates beets and can be served as a side or even a main dish. This recipe is perfect for those participating in
Dr. Colbert's 21-Day Detox!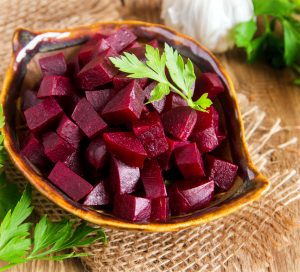 Ingredients
4 – 5 medium roasted organic beets
1 cup of coarse chopped fresh organic parsley
1 tablespoon fresh rough chopped organic dill
Strawberry Vinaigrette
8 oz frozen organic strawberries
1 tablespoon honey or maple syrup
2 tablespoons organic apple cider vinegar
2 tablespoons organic extra-virgin olive oil
1/8 teaspoon sea salt
1/2 teaspoon fresh ground organic black pepper
Instructions
Preheat oven to 400 degrees.
Wash and trim the beets
Wrap each beet lightly in aluminum foil
Place wrapped beets on a baking sheet and roast for 30 – 45 minutes, or until a fork easily slides in.
Unwrap and let cool completely
Chop into small chunks.
Toss with vinaigrette and dill and parsley, then serve.
Strawberry Vinaigrette
Add strawberries to a small saucepan and cook over medium heat, stirring occasionally and mashing with a wooden spoon
Let cool until warm to touch
Blend strawberries with oil, vinegar, spices, and sweetener
Salad & vinaigrette keep for 4 – 5 days in the fridge; see notes for best serving strategy
 Notes
The beet salad can be made ahead of time; simply dress it and add the dill!