Eating seasonally helps sync the body up with the rhythms of nature. The food that we eat serves as information to orient our body to the environment that we inhabit.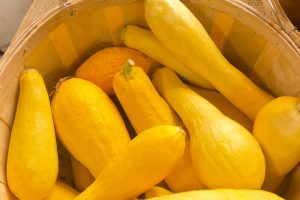 Summer squash is a summer season food and this tasty recipe makes it both palatable and healthy.
Detox has never been more delicious!
INGREDIENTS
-3 large organic summer squash
-2 tablespoons organic extra-virgin olive oil
-¼ teaspoon sea salt
-¼ teaspoon freshly ground black pepper
-2 tablespoons organic almond butter
-Juice of 1 small organic lemon
-1 tablespoon finely chopped fresh organic parsley, plus more for garnish
-1 small organic pear, cored and thinly sliced or roughly chopped
-1/2 cup chopped organic cabbage
-4 tablespoons raw organic walnuts, roughly chopped
-1 organic shallot, diced
-2 large fresh basil leaves, finely chopped
INSTRUCTIONS
1. Preheat oven to 400°F.
2. Cut the squash in half. Remove and discard the seeds. Drizzle the squash halves with the olive oil and sprinkle with the salt and pepper. Place on a baking sheet face up and roast in the oven for 25-30 minutes or until the squash is fork tender.
3. Remove from the oven and set aside to cool for 15 minutes, and then slice each half into 1 inch wedges. Remove the skin from each wedge and peel the squash.
4. Arrange the squash wedges on their sides in the center of a large shallow serving bowl.
5. To make the nut butter dressing: In a small bowl, whisk the nut butter, lemon juice, and parsley until well combined. Whisk well until the dressing is creamy. Set aside.
6. Add the pear, greens, walnuts and shallot on top of the roasted squash wedges and drizzle with the dressing. Garnish with the remaining parsley and chopped basil. Season to taste with additional salt and pepper. Serve warm.
How did your squash turn out? Let us know in the comments below!
For more delicious detox recipes and expert guidance navigating your detox experience, join Dr. Colbert's 21-Day Detox for FREE today!