Satisfy your cravings with this delicious, detoxifying soup that is full of anti-inflammatory vegetables.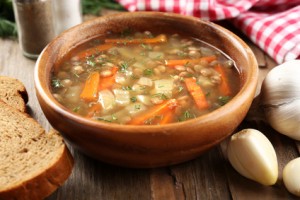 2 tablespoons olive oil
1 carrot, diced
1 celery stalk, diced
1 red onion, finely chopped
3 garlic cloves, minced
2 cups cabbage, shredded
1/2 cup French green lentils
1 teaspoon dried oregano
8 cups vegetable or chicken stock
2 cups kale, finely chopped
1/2 bunch parsley, chopped
1 cup cooked brown rice (optional)
basil pesto, for serving
Heat oil in a large stockpot. Add carrot, celery, onion, and garlic. Saute until vegetables are soft, about 5 minutes. Add cabbage and cook another 5 minutes. Add lentils, oregano, and stock. Bring to a boil, then reduce heat to lower, and simmer for 45 minutes or until lentils are tender. Stir in kale, parsley and cooked brown rice. Cook an additional 8-10 minutes. Stir a teaspoon of pesto into each bowl just before serving and enjoy!