This healthy butternut squash soup will keep you warm this season!
Ingredients: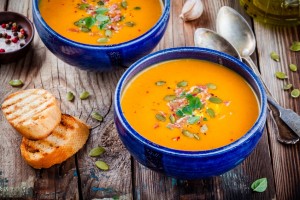 1 Cubed Butternut Squash (2-3 lbs)
2 tbs Extra Virgin Olive Oil
1 Medium Chopped Onion
6 cups Vegetable Broth
2 Cloves Minced Garlic
1/8 tsp Ginger
1/8 tsp Nutmeg
1 tsp Salt
Directions:
Add olive oil and onions in large saucepan. Sauté onions until translucent.
Add squash, broth and garlic. Simmer squash until tender on low medium heat.
Remove squash from saucepan and puree in a blender. Pour puree to soup mixture.
Mix well to combine and add the rest of the seasonings.
Serve warm and enjoy!
Serving Size: 1 cup
Calories: 150
Total Fat: 6 g
Carbohydrates: 22 g
Protein: 5 g