Are you ready for a fresh, delicious, and detox friendly salad that doesn't feel leave you hungry for more? Well look no further because this salad is not only loaded with whole-food nutrients that will help your body detoxify but it is also nourishing and satisfying!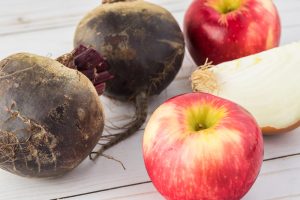 This recipe is great for a lunch to-go or even as a side dish with another meal. Regardless of when it is served, the whole family is sure to enjoy the slightly sweet and super fresh flavors of this detox salad.
INGREDIENTS:
8 Organic Beets
1 Organic Apple (sliced)
1 Shallot (sliced very thin)
¼ Cup Raw Organic Apple Cider Vinegar
1/4 Cup Organic Olive Oil
2 Organic Avocados
Sea Salt and Pepper (to taste)
Fresh Organic Mint (chopped)
INSTRUCTIONS:
Preheat Oven to 400°F.
Chop beets in to half-inch cubes.
Place beets on a baking sheet and roast for 30 minutes (or until beets are tender).
Allow beets to cool completely
Combine all the ingredients in a medium bowl
Toss to combine and season with salt and pepper
How did your salad turn out? Let us know in the comments below!
For more delicious detox recipes and expert guidance navigating your detox experience, join Dr. Colbert's 21-Day Detox for FREE today!