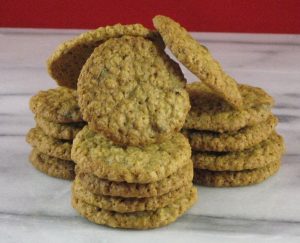 When people hear the word "detox" they tend to think of kale salads and green juice, but Dr. Colbert's 21-Day Detox allows for an occasional delicious whole-food treat.
These gluten-free and vegan oatmeal cookies contain no refined sugar and get their sweetness from whole food dates and bananas. The high fiber content of these fruits helps to slow the release of sugar into the blood stream.
These cookies are a great quick breakfast option or can be eaten as a healthy snack throughout the day. They are perfect for the detox but you will probably love them so much that you will want to eat them all of the time!
INGREDIENTS:
-1 Cup organic dates (soaked for 10 minutes in warm filtered or spring water and then drained)
-1 Medium ripe organic banana
-1/2 Cup organic almond butter
-1/2 Cup organic almond meal/flour
-3/4 Cup organic gluten-free rolled oats
INSTRUCTIONS:
1. Preheat oven to 425 F
2. Add dates, banana, and almond butter to a food processor and pulse until only small bits remain.
3. Next add the almond meal and rolled oats and pulse until a loose dough is formed.
4. Scrape your dough into a mixing bowl.
5. Scoop out 1 Tbsp amounts of your cookie dough and form into loose discs, then arrange on a parchment lined baking sheet. They won't expand so pack them closer together (but not touching).
6. Bake for 15-18 minutes or until golden brown and somewhat firm to the touch. The good thing about these cookies is a little under-baked is OK since there's no eggs and they'll ultimately just be a little more moist.
7. Remove and let set for a few minutes on the pan, then carefully transfer to a plate or cooling rack to cool. Serve immediately.
8. Store leftovers in an airtight container for several days. Move to the fridge or freezer for longer term storage.
How did your cookies turn out? Let us know in the comments below!
Adapted from theminimalistbaker.com
For more delicious detox recipes and expert guidance navigating your detox experience, join Dr. Colbert's 21-Day Detox for FREE today!