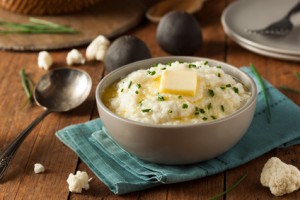 Ingredients:
1 head of cauliflower, cut into florets
1 tablespoon olive oil
1 clove garlic, smashed
1/4 cup shredded dairy-free Parmesan cheese
1 tablespoon of dairy-free cream cheese
1 pinch of kosher salt
1 small pinch of ground black pepper
Directions:
Place a steamer insert into a saucepan and fill with water to just below the bottom of the steamer. Bring water to a boil. Add cauliflower, cover, and steam until tender, about 10 minutes.
Meanwhile, heat olive oil in a small skillet over medium heat; cook and stir garlic until softened, about 2 minutes. Remove from heat.
Transfer half the cauliflower to a food processor; cover and blend on high. Add remaining cauliflower florets, one at a time, until vegetables are creamy. Blend in garlic, Parmesan cheese, cream cheese, salt, and black pepper.
Serve and enjoy!